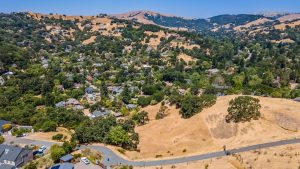 Are you searching for lot to build your dream home amidst a tranquil and picturesque setting? Look no further than San Anselmo, where an extraordinary vacant lot spanning over 2 acres of serene rolling hills awaits your vision. Previously cultivated with Syrah grapes, this parcel offers a unique blend of natural beauty and potential. Embrace the tranquility at the end of a quiet cul-de-sac, while world-class hiking and biking trails are just steps away, inviting you to indulge in the wonders of nature. Let's delve into the captivating possibilities that this vibrant community offers to make your dream home a reality!
1. The Idyllic Setting:
Nestled in San Anselmo's breathtaking landscape, this vacant lot sets the stage for your dream home like no other. The picturesque rolling hills and lush greenery create a serene atmosphere, providing a private oasis away from the hustle and bustle of city life. Whether you envision a modern architectural marvel or a charming country retreat, this property offers the canvas for your vision to come to life.
2. Nature at Your Doorstep:
For nature enthusiasts, this lot is a paradise to behold. Located just steps away from world-class hiking and biking trails, every day becomes an opportunity for outdoor adventures. Immerse yourself in the wonders of the nearby hills, breathe in the fresh air, and let nature rejuvenate your soul. Embrace the tranquil surroundings as you create a haven that seamlessly blends indoor and outdoor living.
3. Your Dream Home Awaits:
With utilities readily available, this lot is primed for building your dream home of up to 5,000 sq ft. Whether you desire a spacious family residence, an entertainer's paradise, or a cozy nest for peaceful solitude, the possibilities are endless. Embrace the freedom to design a home that reflects your lifestyle and meets your every desire. The expansive space allows for lush gardens, recreational areas, and outdoor entertainment spaces to complement your living quarters.
4. San Anselmo: Vibrant Community Vibes:
Beyond the beauty of nature, San Anselmo offers a warm and vibrant community ambiance. Enjoy the charm of the downtown area, where delightful shops, amazing restaurants, and cultural events create a thriving social scene. Engage with friendly neighbors and experience the strong sense of belonging that this welcoming community fosters.
Conclusion:
Don't miss this rare opportunity to own a slice of paradise in San Anselmo! The vacant lot's enchanting setting, proximity to nature, and vibrant community atmosphere make it the perfect location to build your dream home. Create a space that reflects your aspirations and captures the essence of your ideal lifestyle. Embrace the beauty of nature, the charm of the community, and the infinite possibilities that await you in San Anselmo. Seize the moment and embark on the journey of a lifetime to build your dream home in this serene ha